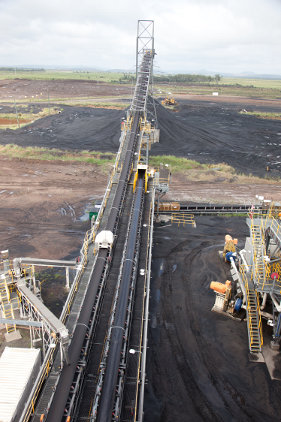 Selective mining at Lake Vermont Mine produces two coal products:-
Hard coking coal
PCI coal
The mine is open cut with Jellinbah Group appointing Thiess Mining as the operator of the mine.
A favourable strip ratio and generous seam thickness means that Lake Vermont Mine is a highly productive mine.
Overburden drilling and blasting is followed by conventional removal with truck and shovel and dozer push.  Coal is then mined using the truck and excavator method and is processed in an 800 tonnes per hour coal preparation plant. Sampling and on-line ash analysis takes place during the processing.
The coal is then directed to product coal stockpiles. The product coal is loaded onto 7,500 tonne trains for despatch to the port.  Lake Vermont is able to rail to Gladstone Port and Abbott Point Coal Terminals.
After mining, careful reshaping and rehabilitation of the spoil dumps is conducted and the site recovered with top soil and seeded. The mine operates in full compliance with Queensland Government environmental procedures which control levels of noise, dust, water quality, overburden rehabilitation etc.
Extensive sampling and analysis before, during and after coal mining ensure correct quality for customers.
The mine infrastructure was expanded in 2012/13 and from October 2013, has a production capacity of 8Mtpa.
Lake Vermont Mine is held by the participants of the Lake Vermont Joint Venture (Jellinbah Group 70%, Marubeni Coal 10%, Sojitz Development 10% and AMCI 10%).
An Environmental Impact Study is currently being undertaken to support a mining lease application to extend the mine underground to extract the available deeper resources.